NYD 2019 Photo Contest- "তোমার চোখে তারুণ্য"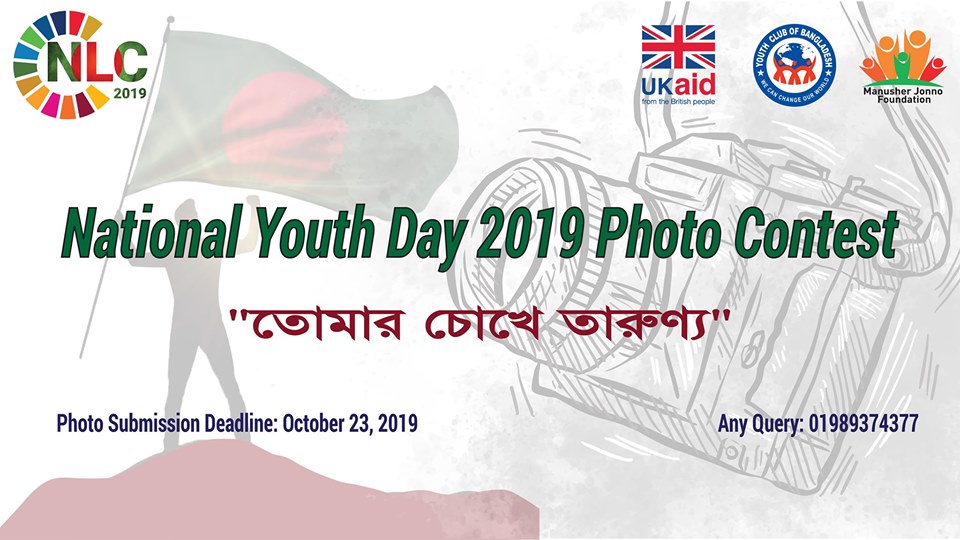 Youth are one of the main resources to build a beautiful world through build a sustainable career path way and without youth no one can build a beautiful planet. To respect youth power every year 1st November Youth Club of Bangladesh going to organize a photo contest and exhibition name "National Youth Day 2019 photo contest- "তোমার চোখে তারুণ্য"
Theme:
Youth related any photo
Eligibility:
-People from all over the Bangladesh can submit the photos.
-Youth Club of Bangladesh Executives can also submit the photos.
-There will be no age limit.
-Mobile camera photos are accepted
– Color and B&W photos are accepted
Category: Color & Black & White
Email: alimanusrat173@gmail.com
Names of the selected photographers will be announced after judgment procedure. Names of selected photographers will be published on a particular date announced after the closure of submission. The selected participants will also be informed by e-mail or phone. By submitting an entry fee, each entrant agrees to this contest's rules and warrants that the entry is his/her own work.
Submission Procedure:
1. Entrants may submit maximum 5 photos.
2. The subject of the e-mail must: Submission for NYD photo contest.
3. Entries must accompany the entrant's name, profession, phone number, email address in email body.
4. Each submitted photograph should be renamed with – Your Full Name_Photo Serial_Category of the Photo_Phone Number_Email ID.
Example- AAA_1_Dslr/Mobile_016xxxxxxxx_ email@xyz.com
5. Borders, Watermarks, Signature, Logo are strictly prohibited.
6. We do not take the responsibility of ineligible entries or entries made fraudulently.
7. Decisions by the judges are final and no correspondence will be entertained in this regard.
8. The images can be Color or B&W, must be at least 300 dpi in resolutions, in JPEG format, with a maximum file size of 10 MB.
9. The copyright will remain with the photographer and the photos will not be used for any commercial purpose without the consent of the photographer. But Youth Club of Bangladesh may use the submitted images for the exhibition's promotional purposes.
10. Selected photographs at the exhibition will be offered for sale. YCB will retain 40% of the sale price as commission.
11. YCB reserves the right to modify the terms and conditions of the competition at any point of time.
Registration Fee:
There is no Entry Fee for submission but each selected Photographer has to pay BDT 500 per photo for DSLR category and Mobile Category. Without registration fee, your photo will not be eligible for exhibition.
All participants will get Frame & Certificates and lots of surprise gift.
Submission started: 10th October, 2019
Last Date of Submission: 23rd October, 2019
Event link: https://www.facebook.com/events/2448033445473350/