MU Diplomatic Assembly- 2020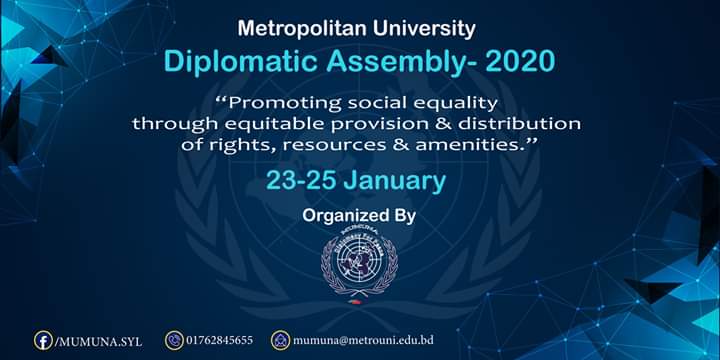 Pledged to the true spirit of United Nations, Metropolitan University Model United Nations Association, after launching its 1st MUN Conference in 2019 with brilliant success, is back with another electrifying MUN experience. Honourable delegates, get ready to assume the roles of world leaders to debate on the most compelling international issues of your time.This is your opportunity to bring out the diplomat of tomorrow within yourself, with flavours of UN and international relations.
Presenting to you,The Diplomatic Assembly-2020, to be held during 23rd-25th Jan, 2020 at Sylhet in the beautiful north-eastern part of Bangladesh.This conference is intended to build responsible and informed future leaders through an exciting, competitive, and powerful forum of UN simulation.
You are invited to Bateshwar, a place of aesthetic beauty, to give a thrilling start to the year of 2020 with this conference.
Mark the dates: 23rd, 24th& 25th January, 2020.
Location: Permanent Campus, Metropolitan University, Bateshwar, Sylhet.
Registration fees: Only 1000tk
To Apply,
for Delegate Registration, Visit: http://bit.ly/mumuna-delegate
For any queries,
please call +8801762845655, +8801726885314
or mail at: mumuna@metrouni.edu.bd
Event link: https://www.facebook.com/events/380090935999060