INTERNATIONAL YOUTH CONFERENCE TO END GENDER BASED VIOLENCE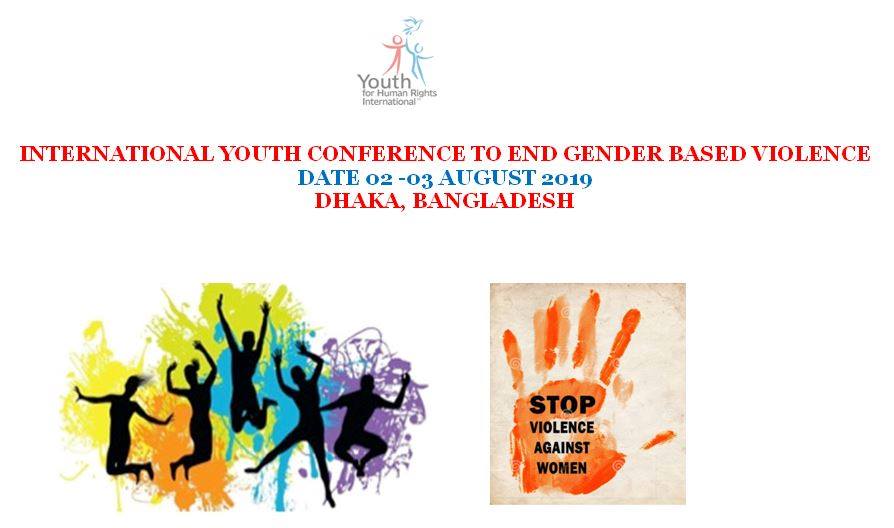 Dhaka | 02-03 August 2019
This two-day conference will bring together students, lawyers, researchers, government officials, service providers, paralegals, community leaders and activists to discuss experiences of strengthening access to justice to end Gender Based Violence. It will map out the different systems or processes through which citizens are claiming their rights – be it through courts, commissions, administrative bodies, municipalities, or through alternative dispute resolution. Increasingly, innovations in technology help to overcome traditional barriers to justice – of cost, time and distance – and to provide greater quality and accountability, when addressing the most urgent justice needs of individuals and communities.
1. Introduction:
WHAT IS GENDER-BASED VIOLENCE (GBV)?
Gender-based violence against children refers to the violence inflicted on a child due to stereotypes and roles attributed to or expected of them according to their sex or gender identity.
Children's vulnerabilities to violence stem from the fact that they depend on their parents or caregivers for their development, health and wellbeing. Sometimes children are viewed as the property of their parents or caregivers, rather than rights-holders, making them vulnerable to abuse, neglect, exploitation and violence. Gender dynamics add another layer of vulnerability.
Gender-based violence disproportionately affects girls and women, particularly through certain forms of violence such as child marriage, intimate partner violence, female genital mutilation, 'honour' killings or trafficking. For this reason, Plan International focuses on ending violence against girls and young women – to meet their increased needs and to advocate for their rights.
WHERE DOES IT HAPPEN?
Girls and young women often experience violence at home, from physical punishment to sexual, emotional or psychological violence. Acceptance of violence as a 'private affair' often prevents others from intervening and prohibits girls and young women from reporting.
School and the journey to it can also be a place where girls experience violence, from sexual harassment, bullying and intimidation. This violation of girls' rights, especially when committed by those in positions of care or authority, can impact on girls' ability to continue and complete their education.
In both cities and rural areas, violence against women and girls in public spaces and on public transport is sadly not uncommon. Fear and threats of violence and harassment limit girls' capacity to lead a free and full life.
During emergency situations, girls are also at heightened risk of violence, abuse, exploitation and abuse.
Gender-based violence is also a rising issue in online spaces, with girls and young women reporting harassment and abuse. For many girls, there is pressure to leave online platforms, or self-censor to avoid abuse. This puts the onus on girls to change their behaviour, rather than the perpetrators and must be challenged.
WHY DOES IT HAPPEN?
Gender-based violence occurs in all parts of the world, but the risk is higher where violence is normalized and where rigid concepts of gender exists.
In many cultures, violence towards girls and young women is accepted as a social norm. This must be challenged as a matter of urgency, and the blame, shame and stigma faced by victims must be eliminated.
Girls must never be held responsible for the violence that happens to them. Violence is the sole responsibility of the perpetrator, who must be held accountable according to national or international legislation. Fear or threat of violence must not restrict girls from living free and full lives, or from realising their full potential.
Certain groups are more vulnerable to violence, including girls and young women from poor, rural or indigenous communities, those who are or are perceived to be LGBTIQ+, those living with disabilities, and girls and women who speak out about political, social and cultural issues and gender inequality.
2. WHY YOUTH ENGAGEMENT TO END GENDER BASED VIOLENCE?
According to the UN population report, there will be 1.3 billion youth – which is a huge posititive force for change. Youth have a great role to play in preventing violence; working towards maintaining and promoting international peace, security and focusing on prevention rather than belated interventions.
Youth should be aware however, that they may be targeted for exercising their human rights so there is need to empower them and this must feature clearly in action plans to end violence and grow their potential for peace, justice, development and mutual respect.
Youth groups should be put in place to promote peace, fight prejudice and injustices, the young women and men should be integrated into decision-making at local, national, regional and international levels to help foster trust between young people and decision makers. Political leaders should set an example by upholding the universal values of equality and mutual respect among all people.
Youth should reject the spirit of fear, discrimination and division among people and nations because this is poisonous to our politics and international relationships endangering our hopes of peace and building inclusive societies. Youth should be partners of government and government programs targeting youth should be age appropriate, dynamic and creative and the private sector should be encouraged to support youth programs, projects, activities and initiatives.
3. AIMS
 To share youth experiences about systems and processes for ensuring access to justice on gender based violence;
 To understand how multi-sectoral youth interventions – on healthcare, social security, community solidarity building, – can increase to end gender based violence;
 To build cross-regional learning, and on how youth engagement can strengthen to end gender based violence;
 To build knowledge of successful challenges to discriminatory laws, policies and procedures which institutionalize discrimination and obstruct to end gender based, and of legal empowerment strategies to implement progressive laws.
4. OUTLINE
Day 1: The first day will open with a review of challenges and opportunities youth engagement to end gender based violence. In Session 1, speakers will focus on innovations on legal aid – highlighting the engagement of paralegals and pro bono lawyers with proactive judiciaries and legal service bodies, providing legal awareness, advice and information, and access to remedies at the community level (local police stations, clinics, ward commissioner) and city or national level (Arbitration Council, National Human Rights Commission, Information Commission, Courts). In Session 2, speakers will highlight multi-sectoral youth interventions which further secure access to justice to end gender based violence. Session 3 will examine how rights to consent and choice are understood and determined including in the context of sexual and reproductive health.
Day 2: Session 4 will focus on the role of youth in strengthening access to justice to end gender based violence. Session 5 will identify and address discrimination in law, policy and practice. The presentations will allow participants to engage in experience sharing by giving insight into the specific challenges they face in ending gender based violence in their respective countries which will in turn highlight how these challenges can be effectively overcome through collective regional and national collaboration. Session 6 will emphasize the need to build and pursue regional networks and alliances for greater impact in ending gender based violence and securing the sustainable development goals. In the closing session, a summary of agreed recommendations will be presented on collaboration and commitments towards furthering achievement of ending gender based violence.
5. PARTICIPANTS
The people will participate in the Conference should be selected carefully following the purpose and objective of the program. 200 undergrad Students from Law, Social Science, International Relations, Journalism and Development Studies and will get preference as it is close to the purpose and objective mentioned above.
About 100 participants are expected, with expertise and experience in providing services around the world, including government officials, lawyers, researchers, service providers, journalists, IT experts, legal aid and rights organizations, community based organizations, social activists, paralegals and community health workers.
Registration Fees: 150 USD for International Participants.
For Registration, please contact yhribangladesh2015@gmail.com
6. EXPECTED OUTCOMES
The conference will result in an overall assessment of the status of Gender Based Violence & Youth Engagement in the participating countries, with a focus on strategies, and innovations including changes in the legal or policy frameworks. It will provide a platform to map out the challenges and evaluate successes. The primary focus will be to set out a framework to strengthen regional collaboration between and among justice sector actors with a view to effectively and collectively strengthen youth engagement and access to justice to end Gender Based Violence.
7. ORGANISERS
The Youth for Human Rights International (YHRI) holding the event, with the logistics support of the National Human Rights Commission, Bangladesh; United Nations Resident Coordinator Office, Dhaka; Commonwealth Youth Human Rights and Democracy Network and United for Human Rights.
8. DATE AND VENUE
The Workshop will be held on the 02-03 Aug 2019.