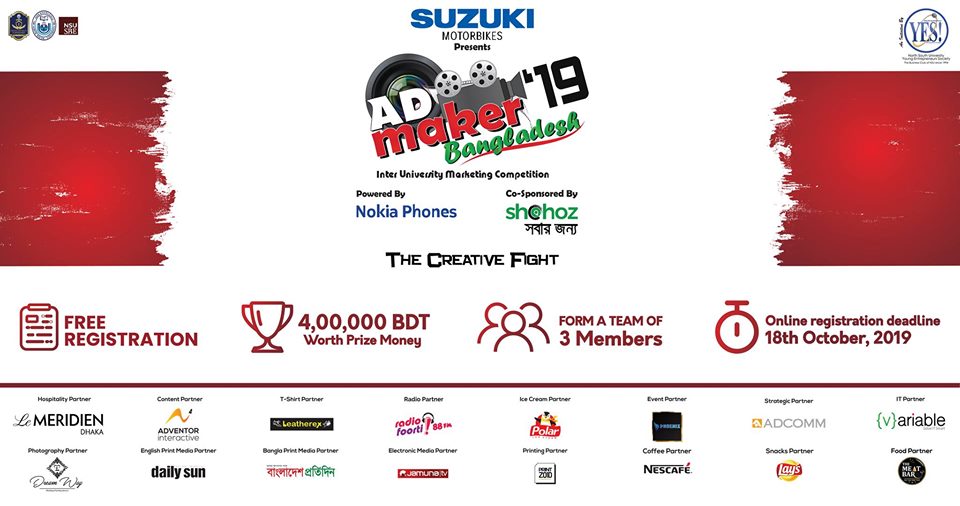 Ad Maker Bangladesh is one of the oldest events of North South University Young Entrepreneurs Society (NSU YES!), which has undoubtedly been one of the premium business clubs of Bangladesh for the past 25 years. This 360 degree marketing battle is an amazing opportunity for undergraduate students to put their creative skills to test and get to explore multiple horizons of marketing and all the essential IMC tools.
As consumers, millennials tend to comprehend marketing differently. To be more precise, we have embarked upon an era where businesses are booming and technologies are advancing at the speed of light. Out of the box and unique marketing ideas are the backbones of a business, when it comes to being a commercial success. This is what Ad Maker Bangladesh, the biggest national scale marketing competition, is based on.
Suzuki Motorbikes presents Ad Maker Bangladesh 2019 Co-Sponsored by Shohoz and Powered by Nokia Phones is all set to launch. Believed to be the biggest marketing competition of the country, in terms of participating teams and prize money, the 8th Season of The Creative Fight returns bigger than ever to justify its magnitude this October, where we will be finding the best of the best marketing strategies which are sustainable, feasible, distinguishable, economical and practical – all at the same time. This time, to prove themselves in the biggest creative fight, students from over 30 different universities will be participating from all across the country.
Three teams will have the chance of winning the prize money of 400,000 BDT
Champion: 200,000 BDT
1st Runner Up: 120,000 BDT
2nd Runner Up: 80,000 BDT
Registration Guidelines:
Free Registration!
To Register Follow this Link: http://nsuyes.org/admaker
Team Member Requirement: 3 members from the same university
Event link: https://www.facebook.com/events/407054193332830