8th Youth Mock Parliament 2019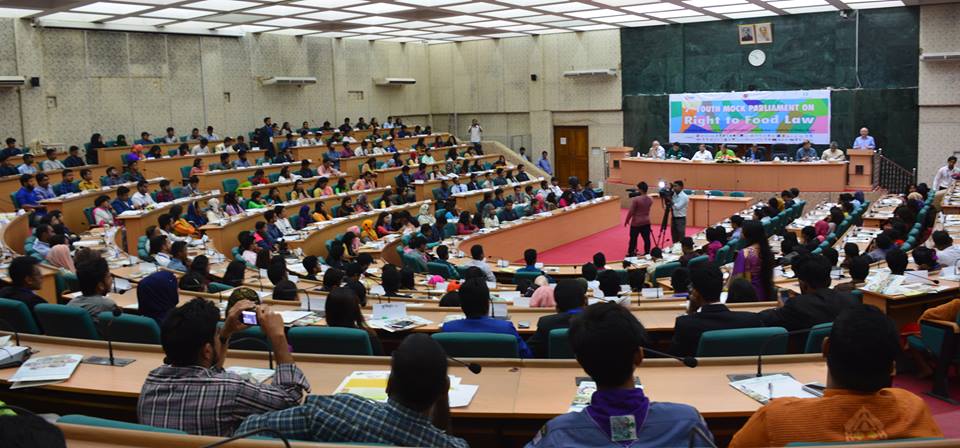 8th Youth Mock Parliament shall take place on 19th October 2019 at Nabab Nawab Ali Chowdhury Senate Bhaban, University of Dhaka. In this event, 300 participants as Youth Parliamentarian will represent 300 constituencies of National Parliament of Bangladesh. The 300 Youth Parliamentarians will be covered from various institutions and youth organizations from all over Bangladesh.
Youth Mock Parliament (YMP) is a creative and new approach of Youth Against Hunger (YAH) Bangladesh to draw the attention of the Policy Makers on different issues, and want to convey the voice of the young generation regarding various social and global issues. We empowered by the vision of a hunger and poverty free Bangladesh by 2021. YAH Bangladesh is mobilizing youth following the spirit, "Don't let hunger end our youth, let our youth end hunger!" Through this event, YAH Bangladesh once again wants to raise consciousness among the youths and inspire them to take a role in creating a better world.
Youth Mock Parliamentarians (YMPs) followed the rules of business alike of Bangladesh National Parliament, supervised by their officials. The mock parliament demanded to enact a law to ensure the Right to Food for every citizen of Bangladesh for all times. The demand was shared with the policymakers through the publication of a proceeding of the youth mock parliament and later with the assistance of the Parliament Secretariat, these proceedings were shared with the Members of the Parliament of Bangladesh.
There are many issues that need to be addressed and some effective measures to be taken by the government. Members of 8th Youth Mock Parliament will discuss on some important topic and will recommend some policies to the government, ensuring the right to food of the citizens.
**********************************************************
Date of Parliament: 19th October 2019
Time: 9.00 AM
Place: Nabab Nawab Ali Chowdhury Senate Bhaban, University of Dhaka
Event link: https://www.facebook.com/events/2266513030109611/